HOW TO CHANGE THE WORLD ONE PENNY AT A TIME: THE STORY OF CLAUDE GOOD AND THE WORM PROJECT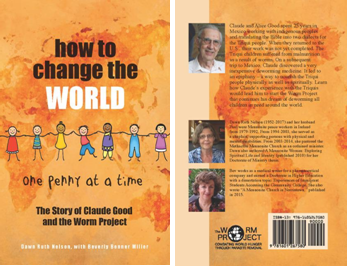 A book about the life of Claude Good, founder of The Worm Project and a missionary for Mosaic Mennonite Conference, is now available. This book tells Claude's life story, beginning with his early years growing up during the Great Depression as the son of Mennonite farmers and the traumatic death of his mother at age 6. Learn how Claude Good's experiences as a missionary in Mexico seeing Triqui children suffering from intestinal worms led him to start the Worm Project, a ministry that continues to follow his dream of deworming all children in need around the world.
Available now at Masthof or Amazon.
Cost is $14 plus shipping. The Worm Project is a ministry of Mosaic Mennonite Conference and will use all profits to purchase more deworming medicine.